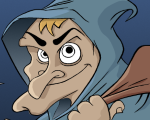 Here's a few videos made by me while testing out a piece of software on the Aros operating system. Scanned an image that I sketched on paper first. The program ZuneFig is not bitmap graphics, it's a vector graphics application so getting fluent lines is quite easy. With the sketch loaded as a backdrop on the drawing screen I could work faster.
ZuneFig also has anti-aliasing so the final result you can get from the application is really good. The videos are not real-time they are speed-ed up otherwise it would just take too long to be interesting.
First drawing black contours around the sketch

Last stage was adding colors and shading
Go to my Digital Art Gallery to to see the final result.